Hello everyone, I hope all is well in your part of the world; wherever you are.
Just thought I would step away from my usual submissions for a minute to show off a few treasures that I have acquired from over the years.
Some people collect Baseball cards. Others collect model cars. I collect masks from around the world.
As a child, I was always fascinated by masks from all around the world but, my favorite type of masks are of the Japanese variety.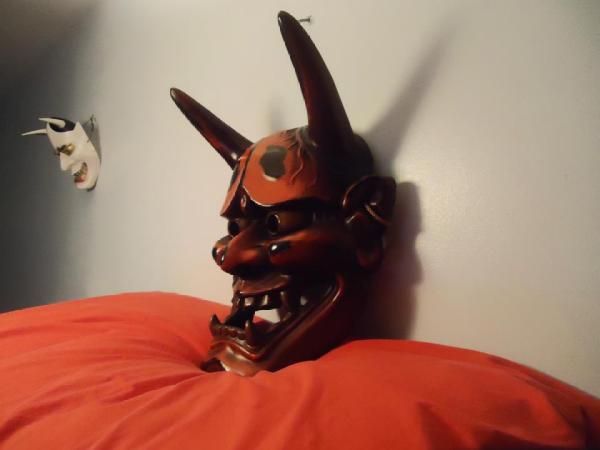 One of the largest masks that I own and easily the most famous. A Japanese mask referred to as the "Hannya" mask (better known as "Devil masks"). In Japan, this mask is used in Japanese Kabuki plays
called Noh. The darker the colour of the mask, the more enraged and consumed by hatred the specific character wearing the mask is.
You may have seen the Hannya mask as a popular tattoo design or worn famously by Yoshimitsu in the Tekken/Soul Calibur series.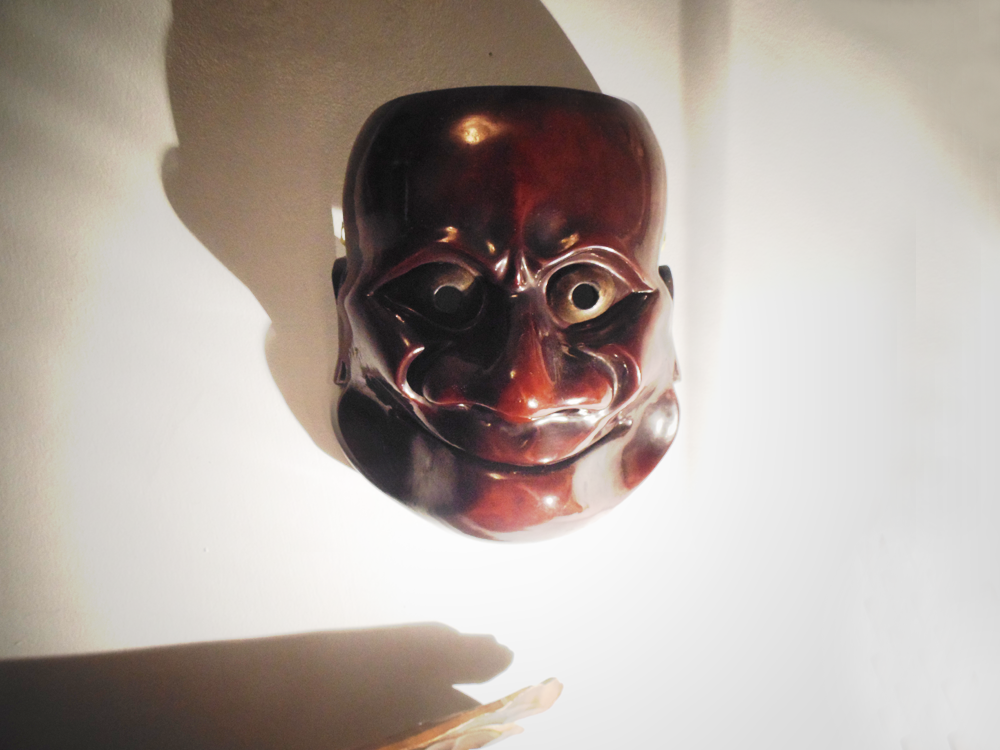 Another mask from Japan, Ko-Beshimi; The sorrowful Demon. Used as a comedy relief during intermissions of more serious Kabuki plays.
Like many Japanese masks, this particular mask contains a hand written talisman inscribed onto the back of the mask by a Buddhist Monk
as a method to ward off evil wherever it is placed.
Kongo-Rikishi, one of two Demon like protectors paired together outside temples and sacred grounds. While this mask was handcrafted in Japan, the story
of the Buddhist Protectors stems from Hinduism. Like the Ko-Beshimi mask, this mask also comes with a Talisman Seal.
Street Fighter's Akuma/Gouken and Battle Arena Toshinden's Veil are based off of this character.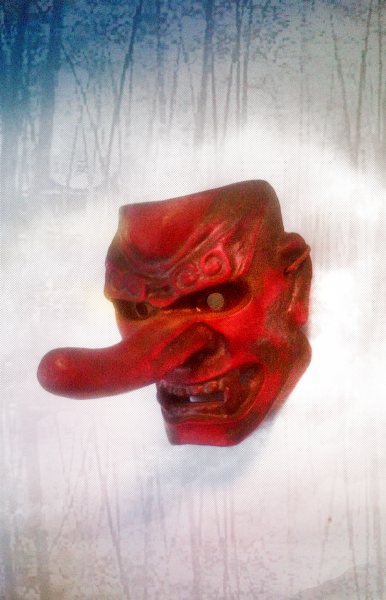 Dead Or Alive fans might recognize this Japanese character. This is a "Tengu" mask which is a Japanese Mountain Goblin/mystical creature. In Temple Shrines,
this mask is often placed, like the Buddhist Protectors in pairs of two (one red, one white as pictured above) and revered as a God-like figure. Though, there
are several types of Tengu. Unlike the better known red coloured Tengu depicted with a long, phallus like nose, this particular Tengu mask I believe to be the spiritual guide Sarutahiko (based off the more respectable portrayal of Tengu in contrast to their more mischievous phallus nosed counterparts).
You may have seen this mask in the:
*Dead Or Alive series (the boss character Bankotsubo is a Tengu and the character Nyo-Tengu is the female version).
*The Battle Arena Toshinden series (Kondo's unlockable sub boss in BAT3 "Toujin" is depicted as a Tengu).
*The Art Of Fighting series (The boss character "Mr. Karate" is depicted wearing a Tengu mask)
*The Japanese version of the NES cult classic "Zombie Nation" stars a Tengu.
*The Virtua Fighter series (a Tengu mask serves as a customizable item for Akira to wear).
*The Mega Man series (the Robot Boss "Tenguman" is modeled off of a Tengu).
So, thus concludes my tour for now. Perhaps I'll get around to posting more photos from my mask collection at a latter date for everyone to see.
And ...HEY! If any of you have a mask(s) out there (especially of the Japanese Noh Kabuki variety) and would like to donate it to my collection, send me a message or leave a comment! I'm always in search of new additions to my collection and I would truly be grateful for your good deed.
"One man's junk is another man's treasure" as the old saying goes.
Oh, well. Gotta run. *Ninja vanish*
-F.G.P.